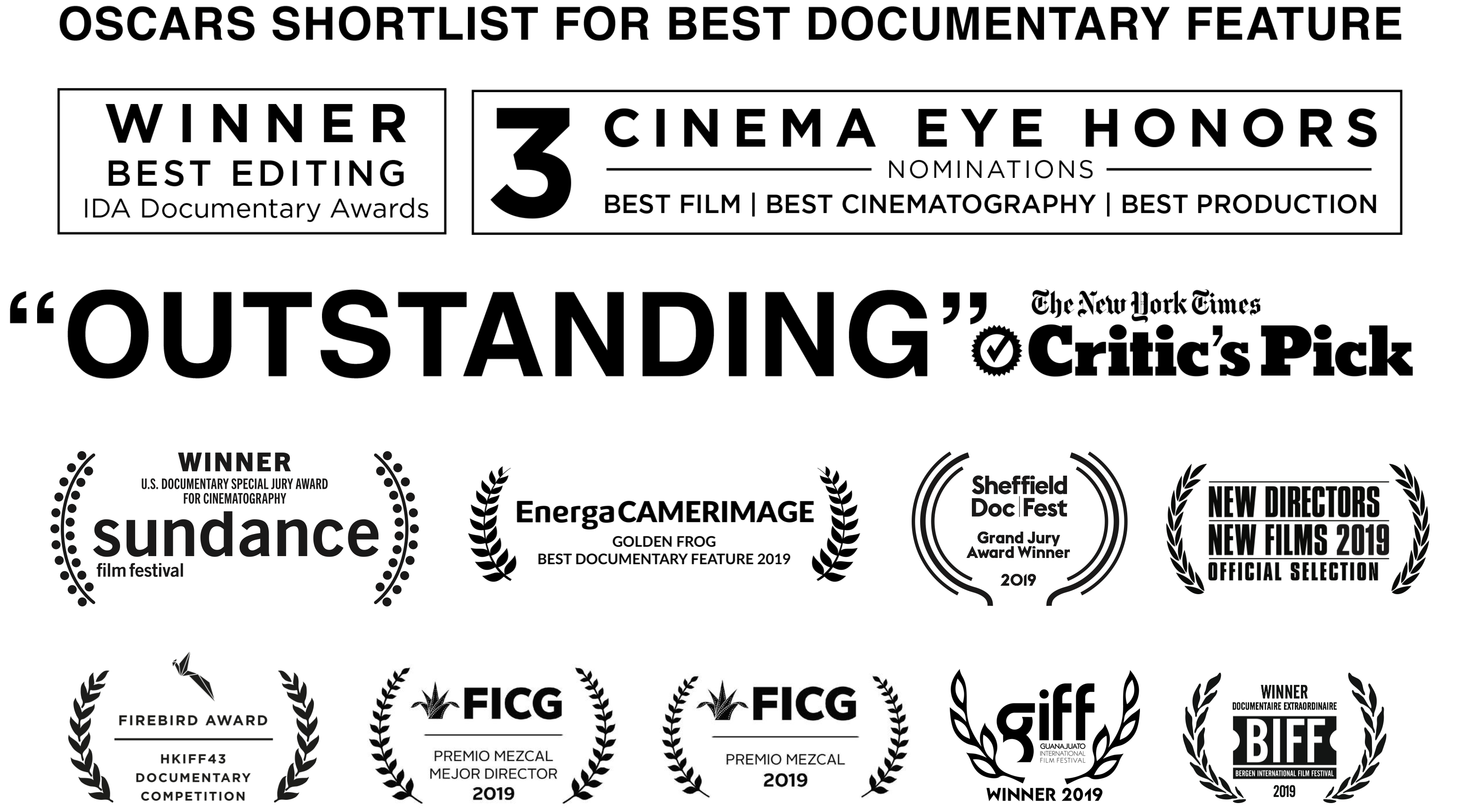 SYNOPSIS:
In Mexico City, the government operates fewer than 45 emergency ambulances for a population of 9 million. This has spawned an underground industry of for-profit ambulances often run by people with little or no training or certification. An exception in this ethically fraught, cutthroat industry, the Ochoa family struggles to keep their financial needs from jeopardizing the people in their care. When a crackdown by corrupt police pushes the family into greater hardship, they face increasing moral dilemmas even as they continue providing essential emergency medical services.

AWARDS:

Special Jury Award for Cinematography, U.S. Documentary, Sundance Film Festival
Premio Mezcal for Best Film, Guadalajara International Film Festival
Premio Mezcal for Best Director, Guadalajara International Film Festival
Premio Guerrero de la Prensa, Red de Prensa Mexicana de Cine
Special Jury Mention, F:act Award, CPH:DOX
Firebird Award for Best Documentary, Hong Kong International Film Festival
Cine Latino Documentary Audience Award, MSPIFF
Grand Prix, Kaliningrad Film Festival
Special Jury Mention, Calgary Underground Film Festival
Special Jury Prize for Cinematography, Montclair Film Festival
Audience Award for Best Documentary Feature, Cine Las Americas
TRT International Documentary Awards, Turkey, Third Place
Bravery Award, Mammoth Lakes Film Festival
Grand Jury Award, Sheffield Doc/Fest
Top Prize, International Competition, Underhill Fest, Montenegro
Grand Jury Prize, Gimli Film Festival
Best Mexican Documentary, Guanajuato International Film Festival
Best Documentary, In the Spirit of Freedom, Jerusalem Film Festival
Best Mexican Documentary, DOQUMENTA, Queretaro
Special Jury Mention, Monterrey International Film Festival
Grand Prix, Message to Man Film Festival, Saint Petersburg
Russian Press Prize, Message to Man Film Festival
IFFS Prize, Message to Man Film Festival
Special Jury Mention, Zurich Film Festival
Best Documentary, Bergen International Film Festival
IDA Documentary Awards, Winner, Best Editing
IDA Documentary Awards, Nominee, Best Feature
IDA Documentary Awards, Nominee, Best Cinematography
Cinema Eye Honors, Best Film Nominee
Cinema Eye Honors, Best Cinematography Nominee
Cinema Eye Honors, Best Production Nominee
Cinema Eye Honors, Unforgettables Award, Juan Ochoa, Nominee
Golden Frog for Best Documentary, EnergaCAMERIMAGE
Best Documentary, Films from the South, Oslo
Special Jury Mention, Monterrey International Film Festival
Maysles Brothers Award, Special Jury Mention, Denver Film Festival
Best Film, WatchDocs International Film Festival, Warsaw
FIPRESCI Rellumes Award for Best Director, Gijón Film Festival




SELECTED PRESS:

"Outstanding... Fantastically shot by the director Luke Lorentzen, the documentary develops an urgency that suits the life-or-death stakes onscreen. By turns terrifying and exhilarating, "Midnight Family" unfolds with such velocity that it may take a while for your ethical doubts to catch up to what's happening. When they do, they leave you gasping."
– Manohla Dargis, New York Times Critics' Pick

"Arguably the most exhilarating documentary to come out of Sundance this year, Midnight Family follows the Ochoa family—the gruff but compassionate Fer and his two underage sons, Juan and Josué—at intensely close range on these Sisyphean missions of mercy."
– Museum of Modern Art and Film Society of Lincoln Center

Included in the "10 Best Movies of Sundance 2019"
"A deft mix of big-picture doc-making and intimate moments... not to mention a wild—and remarkably eye-opening—ride."
– David Fear, Rolling Stone

"This 81-minute masterpiece will change the way you look at documentaries forever; its style reads like an action movie, its themes like a socio-political drama, and, yet, it still is very much a work of non-fiction, with a camera always exactly positioned to capture a society on the brink of moral collapse.
– Jordan Ruimy, The Playlist

"Profound and thrilling cinema verite filmmaking. The film is impeccably crafted by Luke Lorentzen… What matters most here is Lorentzen's intuition—he knows during many stunning moments just where to put the camera in such close quarters, letting us observe as harrowing drama and cinematic poetry unfolds… 'Midnight Family' is extremely visceral in the best way."
– Nick Allen, Roger Ebert.com

Included in "21 Must-See Movies" at Sundance
"An intimate verite documentary... the Ochoas emerge as fascinating embodiments of a country working overtime to correct its shortcomings and keep the lights on. This bracing U.S. competition documentary is poised to provide a personal window into the fast-paced mayhem of Mexico after dark."
– Eric Kohn, Indiewire

LUKE LORENTZEN - Director, Producer, Cinematographer, Editor


Luke Lorentzen is a graduate of Stanford University's department of Art and Art History. His first film, Santa Cruz del Islote (2014) – a short documentary about a small and densely populated fishing community in Colombia – won awards at over ten international film festivals including the San Francisco International, Full Frame Documentary, Camden International, and Chicago International. Midnight Family (2019) – Luke's first feature documentary out of school – tells the story of a family-run ambulance business in Mexico City. The film has played at over 130 film festivals around the world and has won over 25 awards including a Special Jury Award for Cinematography at the Sundance Film Festival and the Grand Jury Award at Sheffield Doc/Fest. Midnight Family will be released theatrically around the world in December of 2019. Luke is also a director and producer on the Netflix documentary series, Last Chance U. His work explores elements of everyday life, often through rigorous formal means, questioning and experimenting with the ways in which non-fiction stories are told. Originally from Connecticut, Luke currently lives in San Francisco.



KELLEN QUINN – Producer

Kellen Quinn is a producer and head of video at Aeon Magazine. He graduated from Wesleyan University in 2005 with a dual degree in Film and Russian & East European Studies. From 2006 to 2009, he was an associate programmer at the Tribeca Film Festival, and from 2009 to 2012 was the deputy director of the Abu Dhabi Film Festival. His first feature documentary, Brimstone & Glory (2017), premiered at True/False, won best documentary at SFFILM Festival, and was selected at Hot Docs, Sheffield and others. In 2016, he was among six producers selected for Impact Partners' Documentary Producers Fellowship. In 2017 and 2018, Kellen participated in the Sundance Documentary Creative Producing Lab and Fellowship.


DANIELA ALATORRE – Co-producer


Daniela is a cofounder of No Ficción, an independent media company devoted to producing non-fiction content. She is a programmer for the Morelia Film Festival, which she produced for ten years. She is the producer of El General (2009), ¡De Panzazo! (2012), El Ingeniero (2012), and the NYT OpDocs Unsilenced. She is part of the board of trustees of the Flaherty Film Seminar and the Ambulante Film Festival. She has been an advisor for the Mexican Institute of Cinematography and Proimágenes Colombia, and has served on the jury of various festivals around the world. Alatorre holds an MFA in documentary film from the School of Visual Arts in NY and is currently working on Marina's Pearl, her first feature film as director.


ELENA FORTES – Co-producer

Elena is a cofounder of No Ficción, an independent media company devoted to producing non-fiction content for multiple platforms, with an emphasis on high profile, social-issue driven documentaries for wide theatrical release. From 2005 to 2016, Elena served as the director of Ambulante, a non-profit organization that she cofounded with Gael García Bernal, Diego Luna, and Pablo Cruz, in order to support and promote documentary film culture in Mexico.



FESTIVALS:
Sundance Film Festival, Park City, January 2019
Cartagena International Film Festival, March 2019
Guadalajara International Film Festival, March 2019
Ambulante Mexico, March-May 2019
CPH:DOX, Copenhagen, March 2019
Hong Kong International Film Festival, March 2019
Lost Weekend, Winchester, VA, March 2019
New Directors/New Films, MoMA and Lincoln Center, March 2019
DocVille Belgium, Brussels, March 2019
Houston Latino Film Festival, March 2019
Full Frame Documentary Film Festival, Durham, April 2019
Minneapolis International Film Festival, April 2019
Sarasota Film Festival, April 2019
ACT Human Rights Festival, Fort Collins, April 2019
San Francisco International Film Festival, April 2019
Night Visions, Helsinki, April 2019
Freep Film Festival, Detroit, April 2019
Dallas Film Festival, April 2019
DOC10, Chicago, April 2019
International Film Festival of Uruguay, April 2019
HotDocs, Toronto, April 2019
Calgary Underground Film Festival, April 2019
IFF Boston, April 2019
Riverside Saginaw Film Festival, Michigan, April 2019
TRT Documentary Days, Istanbul, April 2019
Kaliningrad Film Festival, April 2019
Cine Las Americas, Austin, May 2019
Montclair Film Festival, New Jersey, May 2019
EDOC, Quito, May 2019
Seattle Film Festival, May 2019
Mammoth Lakes Film Festival, May 2019
Krakow Film Festival, June 2019
Greenwich Film Festival, June 2019
Transylvania International Film Festival, June 2019
Sydney Film Festival, June 2019
Nantucket Film Festival, June 2019
Sheffield Doc/Fest, United Kingdom, June 2019
Curitiba International Film Festival, June 2019
Underhill Fest, Podgorica, Montenegro, June 2019
AFI DOCS, Washington, D.C., June 2019
Biografilm, Bologna, June 2019
Shanghai Film Festival, June 2019
Rooftop Films, New York City, June 2019
LA Latino Film Festival, July 2019
Semana de Cine Contemporáneo, Aguascalientes, July 2019
Taormina Film Festival, July 2019
Taipei Film Festival, July 2019
Maine Film Festival, July 2019
Durban International Film Festival, July 2019
New Zealand International Film Festival, July 2019
Guanajuato International Film Festival, July 2019
Gimli Film Fest, July 2019
Jerusalem Film Festival, July 2019
Traverse City, July 2019
Lima Film Festival, August 2019
Sakhalin on the Edge, August 2019
Stronger than Fiction, Canberra, August 2019
Melbourne International Film Festival, August 2019
DokuFest, Kosovo, August 2019
Lighthouse International, New Jersey, August 2019
Monterrey International Film Festival, August 2019
Martha's Vineyard International Film Festival, August 2019
Camden International Film Festival, September 2019
AFI Latin American Film Festival, September 2019
Message to the Man, St. Petersburg, September 2019
Festival de Cine México, Alemania CineMA, September 2019
Athens International Film Festival, September 2019
El Gouna International Film Festival, Egypt, September 2019
Helsinki International Film Festival, September 2019
IDFF Flahertiana, September 2019
Festival de Cine en el Desierto en Sonora, September 2019
Zurich Film Festival, September 2019
Vancouver International Film Festival, September 2019
Bergen International Film Festival, September 2019
Cineuropea, Santiago de Compostela, September 2019
Foro de Cineastas, Tamaulipas, September 2019
Black Canvas, Mexico City, October 2019
Brisbane International Film Festival, October 2019
Viva Mexico, Paris, October 2019
Film Fest Tuscon, October 2019
Peoria Film Festival, October 2019
FilmFest Cologne, October 2019
Hamptons International Film Festival, October 2019
Central Scotland Documentary Festival, October 2019
Lateinamerikanische Filmtage, Germany, October 2019
Tallgrass Film Festival, October 2019
Morelia Film Festival, October 2019
Latin American Doc Showcase, Puerto Rico, October 2019
True/False Community Screening, Colombia, October 2019
Vino Verite, Iowa City, October 2019
Hot Springs Documentary Film Festival, October 2019
Rockaway Film Festival, October 2019
Jio Mami, Mumbai, October 2019
Ânûû-rû Âboro Festival, New Caledonia, October 2019
Inconvenient Films, Lithuania, October 2019
Doctober, Pickford Film Center, Bellingham, October 2019
Teatteri Unio, Finland, October 2019
Unorthadocs, Wexner Arts Center, Colombus, October 2019
Cork Film Festival, Ireland, October 2019
Virginia Film Festival, October 2019
Viennale, Vienna, October 2019
Denver Film Festival, October 2019
Windsor Film Festival, October 2019
Stockholm International Film Festival, November 2019
Brattleboro Film Festival, November 2019
Movies from the South, Oslo, November 2019
San Luis Film Festival, Arizona, November 2019
Berlin Latin American Film Festival, November 2019
DOC NYC, November 2019
Camerimage, Poland, November 2019
KCRW - The Document, Los Angeles, November 2019
Gijon Film Festival, Spain, November 2019
RIDM, Montreal, November 2019
IDFA, Amsterdam, November 2019
Festival Margenes, Spain, November 2019
Sevastopol Film Festival, Crimea, November 2019
Guangzhou Documentary Film Festival, China, November 2019
This Human World, Vienna, December 2019
Watch Docs, Poland, December 2019
Havana Film Festival, Cuba, December 2019
Festival del Puerto, Oaxaca, December 2019
William and Mary Global Film Festival, Virginia, January 2020
Budapest International Documentary Festival, January 2020
Americana Film Festival, Barcelona, March 2020